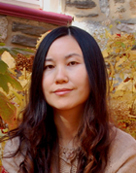 BACKGROUND
Xiuhua Miao's interest in art started at a very young age. She graduated from the Central Academy of Art and Design (中央工艺美术学院). Worked as a fashion designer and graphic designer for many years. After having her own children, she fell in love with teaching art to children. She started teaching art to children in 2006 from her own studio in California. After moving to Philadelphia area with her family in 2009, she started teaching children drawing at Great Wall chinese School. She received very good feedback from parents and students for her teaching method and her atitude toward working with children.
TEACHING METHOD
Xiuhua Miao tries to combine the eastern and westen way of teaching art to Children. While providing instruction in the use of materials and techniques, in an effort to encourage and support each child's individual style of visual expression, teacher Miao guides students through the process of creating their own art. Children learn to trust their own creative impulses and learn to view the world as a place filled with possibilities, one where they are encouraged to shape and express their own vision.
TEACHING CONTENTS
Students new to art will be exposed to basic drawing techniques in mixed media such as oil pastel, marker, water color, tempera, ink etc. Many interesting and fun projects will be introduced to the young children in the class. Older children will focus on building the fondation in sketching and painting. They will also explore a variety of drawing and painting ideas and techniques used by artists throughout history. Once they learn the basics, they will use both of sketch and painting skills to develop an understanding of light, form, color, value, perspective, tonal shading and line techniques.