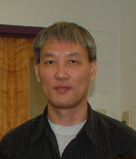 Teacher Li studied at University in China majoring in oil painting. He studied oil painting at Academy of Fine Art in Germany and graduated. He has been working for the Great Wall Chinese School since 2000.
李老师曾在国内大学的油画专业学习, 出国后深造于德国的Academy of Fine Art。 李老师自2000年起在长城中文学校任教至今。
Below is teacher Li's students' art work. Click on image to see next image.