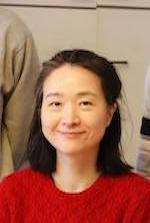 夏琳, 美国瑜伽联盟认证 RYT-500瑜伽老师。  
夏琳习练瑜伽多年并有丰富课堂教学经验。夏琳曾在著名的 YogaLife Institute接受系统的训练, 在2017年二月取得RYT-200认证后, 又于2019年二月取得RYT-500证书。夏琳老师的瑜伽教授以传统瑜伽为基础, 教授范围包括成人流瑜伽, 成人初级瑜伽, 康复瑜伽, 幼儿青少年瑜伽, 阴瑜伽。
夏琳老师在长城中文学校教专为同伴们设计的组合式健身瑜伽课,45分钟健身操,1小时瑜伽。课程内容设计根据同伴们的需求调整,使每个人都能全身心的参与, 得到适度的挑战,收获身体变强壮灵活后的快意。
夏琳老师多年前毕业于复旦大学, 从俄亥俄州立大学取得博士学位后已在制药业工作了20年。
Lin Xia, Certified Yoga Teacher RYT-500. Lin is a long-time yoga practitioner and fitness dance enthusiast. She received her RYT-200 Yoga Teacher certification from the well-known YogaLife Institute in February 2017, followed by RYT-500 Yoga Teacher certification in February 2019. Lin has been teaching various style of yoga classes regularly for more than three years. Her yoga teaching skill repertoire includes adult flow yoga (vinyasa), adult introductory yoga (beginner), kids and teenager, yin and restorative yoga. As someone who had benefitted from the practice of yoga asanas (poses) and philosophy (mindset), Lin teaches every yoga class with compassion and great consideration for the participants.
Lin has developed a unique combo style yoga class for current participants in Great Wall Chinese School. The two-hour class starts with simple and fun fitness dance routines that gradually warm up the body and lift the spirit. The second half of the class utilizes carefully selected yoga pose sequences to improve body strength, flexibility and balance. Like all well-thought-through yoga classes, breathing and mental focus are two major focuses of the class. The combo class content is designed such that people with various needs and fitness levels can fully participate, everyone is challenged just enough to enjoy the two-hours.
Lin holds a Ph.D. degree in Chemistry from the Ohio State University and has worked in multiple capacities in pharmaceutical industry for
20 years.